MEET OUR TEAM
We are an interdisciplinary team of students from ETH Zürich
MEET OUR TEAM
We are passionate about coaching student teams and have coached teams in programs such as the ETH week, Focus projects and the Innovation Project in D-MAVT. We have visited special training courses such as Coach the coaches, Coaching focus projects and more…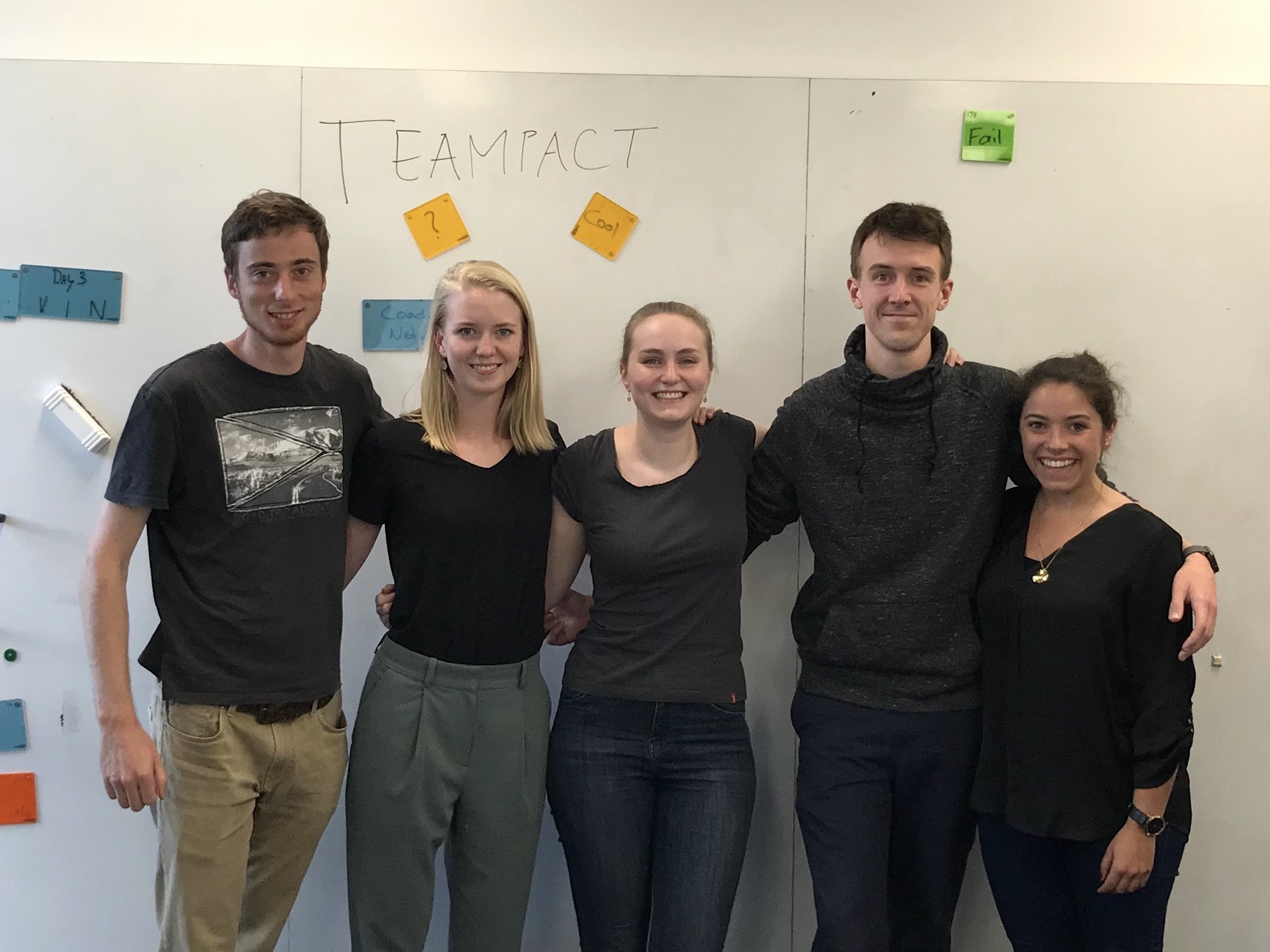 Sebastian Krummenacher
Master Student Mechanical Engineering
After coaching innovation project teams for three years I decided to write my bachelor thesis about team success. It's fascinating how a coach can influence the important variables that correlate with team success. With teampact I have the possibility to keep on coaching diverse interdisciplinary teams with demanding tasks and share my experience with peers.
Michael Liem
PhD Student Mechanical Engineering
I am fascinated by how much impact a coach can have on the performance of a team. The teampact network is a great opportunity for me to exchange coaching experience with like-minded students from different backgrounds. While I learn their approaches and methods, I can pass my knowledge on to them.
Judith Wemmer
PhD Student Food Process Engineering
Throughout my activities as team member and coach – be it at university or in sports – I enjoyed to observe that well-functioning collaboration allows team members to exceed their capabilities and maximize output. At teampact, I can not only share my experience but most importantly learn from my peers how approaches, methodologies, and frameworks can help to foster collaboration and facilitate team processes.
Bianca Curcio
Master Student Agriculture Science
Through our student organization I've got the opportunity to become a soft skill trainer at the youth trainer academy in Lithuania. I started delivering my first trainings, and it amazes me how different the learning effect can be by adapting the way to provide knowledge to the participants. With teampact, I got the right platform to exchange my personal learning experience and not only improve my role in a team but as well empower others to succeed in theirs.
Michael Augsburger
Master Student Environmental Systems and Policy
Text will come soon..
Kerrin Weiss
Master Student Mechanical Engineering
My goal as a coach is to help others pushing their boundaries. I love "Aha"-Moments and enjoy creating a good atmosphere. Through teampact I am able to exchange experiences, learn a lot from fellow coaches and getting provoked to new thoughts. My experience ranges from coaching one on one, moderating workshops up to 100 people and coaching engineering teams of 5-50 people over multiple months.
Enrico Scoccimarro
Master Student Materials Science
After two years of ETH Week, one as student and one as coach, I begin to understand the enormous importance of a coach for team development, cohesion, performance, and success. It is fascinating how a coach can help teams discover different approaches to achieve their goals by combining communication and human psychology. I joined teampact to share my coaching experience and further develop my coaching skills by absorbing the experiences of the other members.
Marcel Neidinger
Master Student Computer Science
Being genuinely interested in the way humans collaborate and create in groups I started tutoring high school student teams while still being in high school myself. After 5 years of coaching research teams and a year of ETH Week, I begin to grasp the impact a coach can have on his team. What I am trying to facilitate and what drives me is the magic moment when a team starts to "click" and really work together, combining all their individual skills and greatness to achieve one common goal.
All our team members will appear here in a little while…